AGRI, Paver's circular tank series, is constructed with pre-fabricated re-enforced concrete ashlars that form a circumference and are subsequently supported by peripheral, harmonized steel post-tension cables positioned in specific perimeter cable ducts.
Agri Tanks designed by Paver offer a viable solution since they guarantee:
Maximum grip




---

Speed of execution




---

Ease of assembly




---

Ability to disassemble and reassemble the same tank in another place




---

Cost reduction of ancillary works




---

Construction with pozzolanic cement that ensures maximum wear and resistance to the elements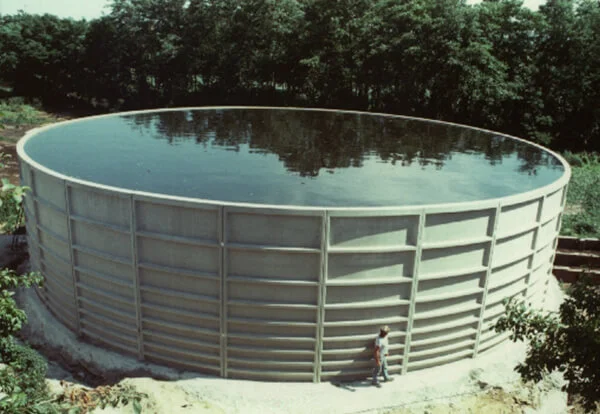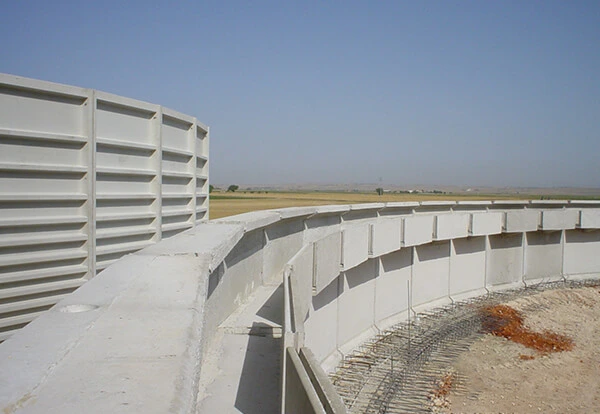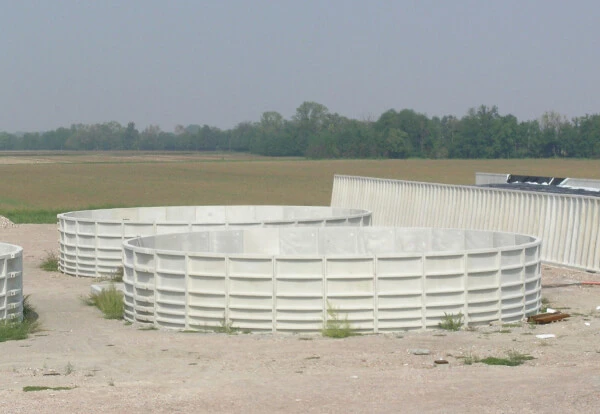 Traditional Paver Tanks are manufactured in modular components of reinforced concrete, stabilized with suitable reinforcement that extends from the internal base of the element, and is incorporated into the floor casting.
Silicone elastomers guarantee the integrity of the seal between the panels.
Our tanks can be manufactured in several shapes – square, circular, rectangular or elliptical – with single or multiple basins.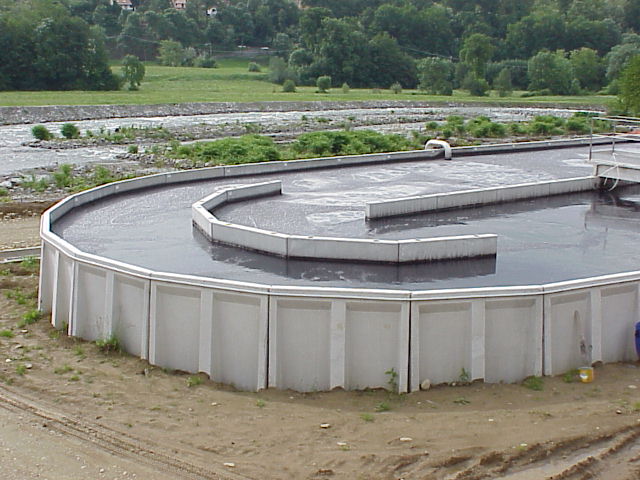 Traditional Paver Tanks are a practical solution because:
Each component is statically independent, allowing the transportation of tanks with varying surface area and volume,


---

They can be built above ground, partially or totally underground, with or without a cover


---

Our special concrete is made with pozzolanic cement for maximum weather resistance and durability


---

Their installation is really fast; a 3,000 cubic meter tank can be installed in just one day!
The Biodigestor® is a specialized digester for biogas. It is made with pre-fabricated curved segments in re-enforced concrete cut with an oxyacetylene torch, assembled with post-tension cables of harmonized steel sheathed in PVC, and positioned in special cable ducts.
Biodigestor segments have integrated insulation consisting of an interior structural layer in pozzolanic re-enforced concrete, an intermediate layer consisting of a slab covered in high-density sintered polystyrene, an external layer of cement, connected to the intermediate with stainless steel pins to prevent the formation of thermal bridges.
Only the internal pavement is made during construction.
There is a selection of covers:
flat, with a re-inforced concrete slab;




in wood with an elastomer membrane that functions as a gasometer;




with 2 or 3 elastomer membranes, affixed and moulded, suitable for the biogas storage system.
Crossing the ocean Paver's experience and the reliability of its tanks are recognized internationally. Paver has licensed the construction of tanks in France, Spain, Slovenia, Canada, and Australia. In Central America,
Paver built the purification systems in a large Coca-Cola facility. The containers filled with components were shipped from the Piacenza offices across 12,000 km. of the ocean before arriving at their final destination.
Tank production began in 1970 and now involves very high-level technical expertise combined with extensive experience in the field. The productive process allows us to obtain very precise measurements to produce surfaces of elements with a tolerance of within a few hundredths of a millimeter to guarantee the integrity of the tank seal in any situation.
Please contact us if you have any questions about our solutions or require any further information, pricing, or quotes.
We're always happy to help you!
PAVER S.P.A. P.IVA – C.F. 00870620333